Vendor- Ten Speed Press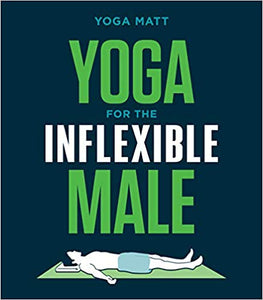 Yoga for the Inflexible Male: A How-to Guide, by Yoga Matt
Ten Speed Press
Regular price $16.00 Sale
A yoga book for the chronically inflexible, with practical, down-to-earth advice for weekend warriors, aging athletes, and anyone else who could benefit from a bit more flexibility in their lives.

The benefits of yoga--greater strength, flexibility, and presence of mind--are for anyone, no matter their skill level. But most classes don't feel that way if you're a first-timer--or an inflexible male. Enter Yoga for the Inflexible Male, a welcoming and humorous guide for people of all stripes that gives three vetted hour-long yoga routines, each with roughly a dozen yoga poses. The poses are illustrated and described in depth, and each one contains variations so that they are accessible to anyone, no matter their flexibility. The back of the book also has sequences geared for practitioners of specific sports, like running, biking, climbing, and so on. As more and more men are encouraged to increase their flexibility, the health advantages of yoga are no longer beyond their reach.
About the Author
YOGA MATT is the nom de namaste of Roy Parvin and a nod to the everyman of yoga. Parvin is the award-winning fiction author of In the Snow Forest (WW Norton), and a recipient of a National Endowments for the Arts Grant in Literature. Roy is also an elite cyclist; his devotion to yoga began as therapy for a bout of sleeplessness. The yoga proved to be so therapeutic for his insomnia that he became an evangelist of the ancient practice.
"A funny thing happened when the new yoga studio, Yoga on Center, came to town. Mainly, that I started doing yoga. You'd think somebody named Yoga would be more familiar with the ancient art, but, hey, it's only a family name. I'm as inflexible as the rest of us. This is the story of how an inflexible male became a lot more flexible, and it could become your story, too.

The thought of practicing yoga had dimly crossed my radar. I'm athletic, a compulsive bike rider. Yet for all the miles I log in the saddle, I wouldn't call myself limber. I'd require an ambulance standing by in order to perform the feat of bending over to touch my toes. The idea of flexibility appealed, but the mental image of practicing yoga in front of women did not. I'm sorry: I have my pride. The class I envisioned would be men only. A kind of bring me your stiff, your deeply embarrassed, your previously yoga-phobic.

Yoga on Center surprisingly agreed. Then something else surprising happened. The class immediately sold out. A second class was added, also selling out. Same story in their other studios. Apparently, there is a fairly large but latent section of the male population interested in the ancient practice—if the class was solely for inflexible men.

Now every Tuesday and Friday at four p.m. a brave contingent of men put on their yoga pants and file into Yoga on Center. Well, to be honest, nobody wears yoga pants in this crowd. Shorts and T-shirts are the rule. It's a room full of men who look like they might be going to the market for a half gallon of milk. Rookies, one and all, blissfully ignorant of the term downward dog, which very well might refer to a depressed canine in need of mood enhancers. Injuries abound. Trick knees, wonky backs, a panoply of sports-related boo-boos. The bodies might not be entirely willing, but the overall spirit is.

Jerry is our fearless teacher, an athletic seventy-year-old with a bushy mustache and the avuncular bearing of a wrestling coach. A number of years ago, doctors informed him he'd need to walk with a cane for the rest of his life. Jerry chose yoga instead. Not only does he walk perfectly well, but he's also capable of bending himself into some insanely freaky positions.

For our class, Jerry is gentle and encouraging in his instruction. He demonstrates a pose, and the class, to varying degrees of pliancy, imitates his example. Jerry thankfully keeps his corrections to a minimum. The goal isn't to strike the perfect pose, but to embrace the wabi sabi–ness of it all. Inhibitions gradually recede.Muscles are stretched and prodded. The rest of the world goes away. We can't pronounce the names of the poses, but we're doing them, and a palpable spirit of hey, look ma, no hands permeates the air. For a bunch of unyielding middle-aged men, it's quite remarkable.

This book captures that experience, Jerry included. It's not meant to be an encyclopedic tome about yoga. If I can speak on behalf of those with XY chromosomes, we don't care about that stuff. Yoga for the Inflexible Male is intended to give you what you need to improve your flexibility, with plenty of pictures, because as everyone knows, guys like pictures.

The chapters are divided into three hour-long practices, each comprised of twelve to seventeen poses. One pose transitions into the next. A handy graphic illustrates the good way to do the pose, the not-so-bad, and the ugly—the no-frills, basic down-and-dirty. In the back of the book, there's a section for combining poses from different sessions for sport-specific practices.

Yoga for the Inflexible Male is designed to lie flat for easy reference while you're on the yoga mat. Maybe practice in front of a mirror to ensure you're doing it right. You'll soon discover yoga isn't so different from weight training, except your body's the weight and you're working more on balance, not bulking up. Added bonus: It's also more peaceful than a weight room and requires way less equipment. All you need is this book, a body, a yoga mat, and a willingness to try something new. You'll still be a guy, but with yoga, you'll be a lot less inflexible of body. And perhaps of spirit, too. That's what happened to me.

One more thing. I'm just the microphone here. I'll be the first to admit it: I'm no expert. Just a goofy guy who came up with the idea for the class. The rest is all Jerry and he has credentials up the wazoo.

Don't let that crazy mustache fool you. He brings decades of wisdom to our world of beginner male yoga every week. I've tape recorded each class. I know, probably illegal in a few states. But it was the only way I could capture every nuance of Jerry's expertise.

All the jokes—good and bad—are mine. Jerry's funny, but not intentionally. I mean no harm. My aim is to entertain and include everyone. It's not truly funny unless everyone's laughing. Often I'm just poking fun at myself, the prototypical inflexible male. The rest is pure joy for yoga. Out of shyness and male bashfulness about looking inept, I thought life was going to pass me by without experiencing the ancient practice. Happily, that didn't happen.

I'm a modest practitioner of the trade, but if I'm any indication of what yoga can do, here's the kind of hard data that men appreciate. My average on the bike is a mile per hour faster. Hills and wind are smaller obstacles and I regularly outride cyclists twenty years my junior, laughing to myself as I pass them. It's all natural, none of those performance enhancers. When other riders ask me what my secret is, all I tell them is it's a four-letter word." - from Yoga Matt
Released November 19, 2019