Vendor- Blackburn, Lizzie Damilola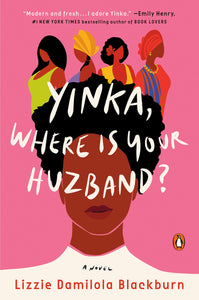 Yinka, Where is your Huzband?
Blackburn, Lizzie Damilola
Regular price $18.00 Sale
        Yinka's Nigerian aunties frequently pray for her delivery from singledom, her work friends think she's too traditional (she's saving herself for marriage!), her girlfriends think she needs to get over her ex already, and the men in her life…well, that's a whole other story.  But Yinka herself has always believed that true love will find her when the time is right.
     Still, when her cousin gets engaged, Yinka commences Operation Find-A-Date for Rachel's Wedding. Aided by a spreadsheet and her best friend, Yinka is determined to succeed. Will Yinka find herself a huzband? And what if the thing she really needs to find is herself?
    Yinka, Where is Your Huzband? is a fresh, uplifting story of an unconventional heroine who bravely asks the questions we all have about love. Wry, moving, irresistible, this is a love story that makes you smile but also makes you think--and explores what it means to find your way between two cultures, both of which are yours.
Paperback, Dec 27th 2022