Vendor- Brady, Amy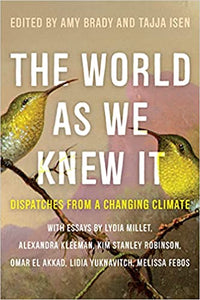 World as we Knew It: Dispatches from a Changing Climate
Brady, Amy
Regular price $16.95 Sale

In this riveting anthology, leading literary writers reflect on how climate change has altered their lives, revealing the personal and haunting consequences of this global threat. 
 
In the opening essay, National Book Award finalist Lydia Millet mourns the end of the Saguaro cacti in her Arizona backyard due to drought. Later, Omar El Akkad contemplates how the rise of temperatures in the Middle East is destroying his home and the wellspring of his art. Gabrielle Bellot reflects on how a bizarre lionfish invasion devastated the coral reef near her home in the Caribbean—a precursor to even stranger events to come. Traveling through Nebraska, Terese Svoboda witnesses cougars running across highways and showing up in kindergartens. 
 
As the stories unfold—from Antarctica to Australia, New Hampshire to New York—an intimate portrait of a climate-changed world emerges, captured by writers whose lives jostle against incongruous memories of familiar places that have been transformed in startling ways.
Paperback, June 14th 2022