Vendor- Buck, Pem Davidson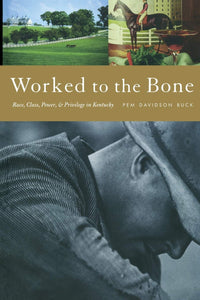 Worked to the Bone: Race, Class, Power & Privilege in Kentucky
Buck, Pem Davidson
Regular price $18.95 $18.98 Sale
Worked to the Bone is a provocative examination of race and class in the United States and the mechanics of inequality. In an elegant and accessible style that combines thoroughly documented sociological insight with her own compelling personal narrative, Pem Buck illustrates the ways in which constructions of race and the promise of white privilege have been used at specific historical moments to divide those in the United Statesspecifically, in two Kentucky countieswho might have otherwise acted on common class interests. From the initial creation of the concept of "whiteness" and early strategies focused on convincing Europeans, regardless of their class position, to identify with the eliteto believe that what was good for the elite was good for themto the moment between 1750 and 1800 when most people who were identified by their European descent finally came to believe that skin color was as integral to their identity as gender, the promise of white privilege underpinned the Kentucky system.
Pem Buck examines the long term effects of these developments and discusses their impact on the lives of working people in Kentucky. She also analyzes the role of local tobacco-growing and corporate elites in the underdevelopment of the state, highlighting the ways in which relationships between poor white and poor black working people were continuously manipulated to facilitate that process.
Documentary material includes speeches, songs, photographs, charts, cartoons, and ads presented in a large, visually appealing format.
Released May 1, 2002