Vendor- Hay House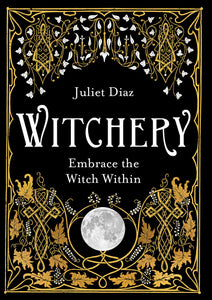 Witchery: Embrace the Witch Within, by Juliet Diaz
Hay House
Regular price $16.99 Sale
Everywhere, the witches are rising. Are you ready to answer the call and embrace your own inner witch?

In this book, third-generation Witch Juliet Diaz guides you on a journey to connect with the Magick within you. She explains how to cast off what doesn't serve you, unleash your authentic self, and become an embodiment of your truth. You'll also learn the skills and techniques you need to build your own Magickal craft.

Within these enchanted pages you'll discover how to:

  •  Connect with the power of your inner witch
  •  Create spells, potions, and rituals for love, protection, healing, manifestation and more
  •  Amplify your energy by working with a Book of Shadows
  •  Create an altar and decorate it according to the seasons
  •  Work with the Moon and the Seasons of the Witch
  •  Connect with your ancestors to receive their wisdom

Filled with Magick, inspiration, and love, Witchery is your guide and companion on a wickedly delicious journey to true self-empowerment.
Juliet Diaz is a hereditary Witch from a long line of Witch Healers from Cuba (with indigenous roots). She is the owner of November Sage Apothecary and the online November Sage Herbarium - A Witch Healers' School. Juliet is a Healer, seer, and herbalist, and she holds a Master of Science in Herbal Medicine. She is known for her abilities as a natural healer and her gift of communicating with plants, trees, and nature spirits. Juliet was born with extrasensory abilities, and signs of her natural gifts, including healing, energy reading, and communication with spirit and other realms, shone through from the age of three. She believes that Magick lives within us all and feels passionate about bringing truth into the world and inspiring others to step into their power.

Paperback. March 5, 2019