Vendor- Bouysse, Franck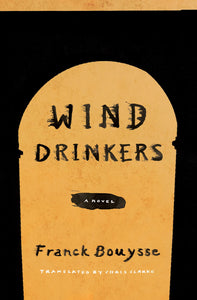 Wind Drinkers
Bouysse, Franck
Regular price $18.99 Sale

In the godforsaken valley of the Black Rimstone, four siblings meet by the viaduct, a place of their own away from home and daily life, which hold so little for them: Mark, who reads in secret against his father's orders; Matthew, who understands the forest, the river, and all their creatures; Mabel, who wields her stunning beauty in pursuit of pleasure and independence; and Luke, so often pitied and dismissed as simpleminded, but whose fantastic dreams reveal an uncommon wisdom. Together they live as one, bound by an unshakable bond.
    Hanging over them, and the rest of the valley, is the bleak prospect of work in the power plant, constructed and controlled by the fearsome Joyce. Having arrived a stranger, he owned the entire town within ten years, and now keeps a stranglehold on it through money and violence. But after generations are used and spit out in service of one man's greed, there comes a breaking point.
    Winner of the Prix Jean Giono, this masterful, parable-like novel bears witness to the power of nature and the promise of rebellion.
Paperback