Vendor- Wiley, Soon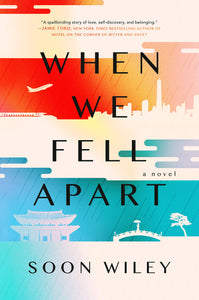 When We Fell Apart: A Novel
Wiley, Soon
Regular price $27.00 Sale
When the Seoul police inform Min that his girlfriend Yu-jin has committed suicide, he's sure it can't be true. She was successful, ambitious, happy, just on the cusp of graduating from university and claiming the future she'd always dreamed of. 
 
Min, on the other hand, born to an American father and Korean mother, has never felt quite the same certainty as Yu-jin about his life's path. After growing up in California, where he always felt "too Korean" to fit in, he's moved to Seoul in the hope that exploring his Korean heritage will help him find a sense of purpose. And when he meets Yu-jin, little does he know that their carefree relationship will set off a chain of events with tragic consequences for them both.
 
Devastated by Yu-jin's death, Min throws himself into finding out why she could have secretly wanted to die. Or did she? With a controlling and powerful government official father, and a fraught friendship with her alluring and destructive roommate So-ra, Yu-jin's life was much more complex than she chose to reveal to Min. And the more he learns about her, the more he begins to doubt he ever really knew her at all.

As Yu-jin's story—a fraught exploration of selfhood, coming-of-age, and family expectations—collides with Min's, the result is an engrossing page-turner that poses powerful, urgent questions about cultural identity, family bonds, secrets, and what it truly means to belong.
Released April 26, 2022