Vendor- Verble, Margaret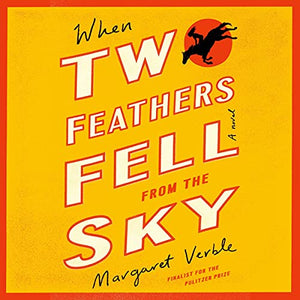 When Two Feathers Fell from the Sky
Verble, Margaret
Regular price $17.99 Sale
Louise Erdrich meets Karen Russell in this deliciously strange and daringly original novel from Pulitzer Prize finalist Margaret Verble: set in 1926 Nashville, it follows a death-defying young Cherokee horse-diver who, with her companions from the Glendale Park Zoo, must get to the bottom of a mystery that spans centuries.
Two Feathers, a young Cherokee horse-diver on loan to Glendale Park Zoo from a Wild West show, is determined to find her own way in the world. Two's closest friend at Glendale is Hank Crawford, who loves horses almost as much as she does. He is part of a high-achieving, land-owning Black family. Neither Two nor Hank fit easily into the highly segregated society of 1920s Nashville.
When disaster strikes during one of Two's shows, strange things start to happen at the park. Vestiges of the ancient past begin to surface, apparitions appear, and then the hippo falls mysteriously ill. At the same time, Two dodges her unsettling, lurking admirer and bonds with Clive, Glendale's zookeeper and a World War I veteran, who is haunted—literally—by horrific memories of war. To get to the bottom of it, an eclectic cast of park performers, employees, and even the wealthy stakeholders must come together, making When Two Feathers Fell from the Sky an unforgettable and irresistible tale of exotic animals, lingering spirits, and unexpected friendship.
Paperback, Oct 11th 2022