Vendor- Thomas Dunne Books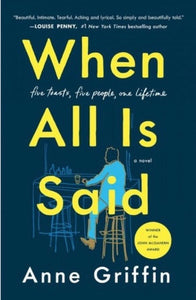 When All Is Said, by Anne Griffin
Thomas Dunne Books
Regular price $26.99 $24.29 Sale
"I'm here to remember–all that I have been and all that I will never be again."

If you had to pick five people to sum up your life, who would they be? If you were to raise a glass to each of them, what would you say? And what would you learn about yourself, when all is said?
At the bar of a grand hotel in a small Irish town sits 84-year-old Maurice Hannigan. He's alone, as usual - though tonight is anything but. Pull up a stool and charge your glass, because Maurice is finally ready to tell his story.
Over the course of this evening, he will raise five toasts to the five people who have meant the most to him. Through these stories - of unspoken joy and regret, a secret tragedy kept hidden, a fierce love that never found its voice - the life of one man will be powerful and poignantly laid bare.
Beautifully heart-warming and powerfully felt, the voice of Maurice Hannigan will stay with you long after all is said and done.
"Beautiful, yet heartbreaking"―US Weekly
"An impressively confident debut novel." ―The Guardian
"An accomplished debut. A sensitive layered description of grief and regret...excellent." ―Minneapolis Star Tribune
"Explores with humor and heart...Beautifully realized." ―Lit Hub

"There's something special here." ―John Boyne, New York Times bestselling author of The Boy in the Striped Pajamas

"This is how you tell a story." ―Cecelia Ahern, New York Times bestselling author of PS, I Love You
"When All Is Said catches a world in a moment. Maurice Hannigan is a wonderful invention, whose bitter-sweet meditations will stay long in the reader's mind. Anne Griffin has fashioned a rare jewel." ―John Banville, New York Times bestselling author of Time Pieces and Man Booker Prize award-winning author of The Sea