Vendor- Weitzman, Hal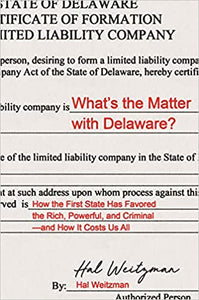 What's the Matter with Delaware? How the First State has Favored the Rich, Powerful, and Criminal- and How it Costs us All
Weitzman, Hal
Regular price $27.95 Sale
The legal home to over a million companies, Delaware has more registered businesses than residents. Why do virtually all of the biggest corporations in the United States register there? Why do so many small companies choose to set up in Delaware rather than their home states? Why do wealthy individuals form multiple layers of private companies in the state? This book reveals how a systematic enterprise lies behind the business-friendly corporate veneer, one that has kept the state afloat financially by diverting public funds away from some of the poorest people in the United States and supporting dictators and criminals across the world.

Hal Weitzman shows how the de facto capital of corporate America has provided safe haven to money launderers, kleptocratic foreign rulers, and human traffickers, and facilitated tax dodging and money laundering by multinational companies and international gangsters. Revenues from Delaware's business-formation industry, known as the Franchise, account for two-fifths of the state's budget and have helped to keep the tax burden on its residents among the lowest in the United States. Delaware derives enormous political clout from the Franchise, effectively writing the corporate code for the entire country―and because of its outsized influence on corporate America, the second smallest state in the United States also writes the rules for much of the world.

What's the Matter with Delaware? shows how, in Joe Biden's home state, the corporate laws get written behind closed doors, enabling the rich and powerful to do business in the shadows.
Hardcover, May 24th 2022