Vendor- Harper Business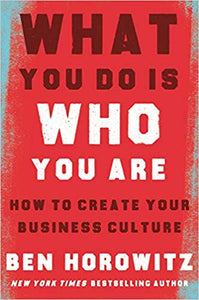 What You Do Is Who You Are: How to Create Your Business Culture, by Ben Horowitz. Foreword by Henry Louis Gates, Jr.
Harper Business
Regular price $29.99 Sale
Ben Horowitz has long been fascinated by history, and particularly by how people behave differently than you'd expect. The time and circumstances in which they were raised often shapes them―yet a few leaders have managed to shape their times. In What You Do Is Who You Are, he turns his attention to a question crucial to every organization: how do you create and sustain the culture you want?
To Horowitz, culture is how a company makes decisions. It is the set of assumptions employees use to resolve everyday problems: should I stay at the Red Roof Inn, or the Four Seasons? Should we discuss the color of this product for five minutes or thirty hours? If culture is not purposeful, it will be an accident or a mistake.
What You Do Is Who You Are explains how to make your culture purposeful by spotlighting four models of leadership and culture-building―the leader of the only successful slave revolt, Haiti's Toussaint Louverture; the Samurai, who ruled Japan for seven hundred years and shaped modern Japanese culture; Genghis Khan, who built the world's largest empire; and Shaka Senghor, a man convicted of murder who ran the most formidable prison gang in the yard and ultimately transformed prison culture.
Horowitz connects these leadership examples to modern case-studies, including how Louverture's cultural techniques were applied (or should have been) by Reed Hastings at Netflix, Travis Kalanick at Uber, and Hillary Clinton, and how Genghis Khan's vision of cultural inclusiveness has parallels in the work of Don Thompson, the first African-American CEO of McDonalds, and of Maggie Wilderotter, the CEO who led Frontier Communications. Horowitz then offers guidance to help any company understand its own strategy and build a successful culture.
What You Do Is Who You Are is a journey through culture, from ancient to modern. Along the way, it answers a question fundamental to any organization: who are we? How do people talk about us when we're not around? How do we treat our customers? Are we there for people in a pinch? Can we be trusted?
Who you are is not the values you list on the wall. It's not what you say in company-wide meeting. It's not your marketing campaign. It's not even what you believe. Who you are is what you do. This book aims to help you do the things you need to become the kind of leader you want to be―and others want to follow.
Ben Horowitz is the cofounder and general partner of Andreessen Horowitz, a Silicon Valley–based venture capital firm that invests in entrepreneurs building the next generation of leading technology companies. The firm's investments include Airbnb, GitHub, Facebook, Pinterest, and Twitter. Previously he was cofounder and CEO of Opsware, formerly Loudcloud, which was acquired by Hewlett-Packard for $1.6 billion in 2007. Horowitz writes about his experiences and insights from his career as a computer science student, software engineer, cofounder, CEO, and investor in a blog that is read by nearly ten million people. He has also been featured in the Wall Street Journal, the New York Times, the New Yorker, Fortune, the Economist, and Bloomberg Businessweek, among others. Horowitz lives in the San Francisco Bay Area with his wife, Felicia.

Henry Louis Gates, Jr., is the Alphonse Fletcher University Professor and Director of the Hutchins Center for African and African American Research at Harvard University. An award-winning filmmaker, literary scholar, journalist, cultural critic, and institution builder, Professor Gates has authored or coauthored twenty-two books and created eighteen documentary films, including Finding Your Roots. His six-part PBS documentary, The African Americans: Many Rivers to Cross, earned an Emmy Award for Outstanding Historical Program-Long Form, as well as a Peabody Award, Alfred I. duPont-Columbia University Award, and NAACP Image Award.
Released November 19, 2019