Vendor- Nnuro, DK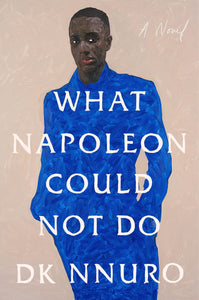 What Napoleon Could Not Do
Nnuro, DK
Regular price $28.00 Sale
When siblings Jacob and Belinda Nti were growing up in Ghana, their goal was simple: to move to America. For them, the United States was both an opportunity and a struggle, a goal and an obstacle.
 
Jacob, an awkward computer programmer who still lives with his father, wants a visa so he can move to Virginia to live with his wife—a request that the U.S. government has repeatedly denied. He envies his sister, Belinda, who achieved, as their father put it, "what Napoleon could not do": she went to college and law school in the United States and even managed to marry Wilder, a wealthy Black businessman from Texas. Wilder's view of America differs markedly from his wife's, as he's spent his life railing against the racism and marginalization that are part of life for every African American living here.
 
For these three, their desires and ambitions highlight the promise and the disappointment that life in a new country offers. How each character comes to understand this and how each learns from both their dashed hopes and their fulfilled dreams lie at the heart of what makes What Napoleon Could Not Do such a compelling, insightful read.
Hardcover, Feb 7th 2023