Vendor- Szabo, Rose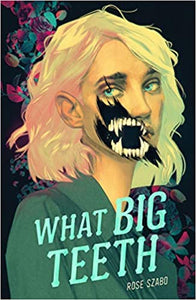 What Big Teeth
Szabo, Rose
Regular price $18.99 Sale
Rose Szabo's thrilling debut is a dark fantasy novel about a teen girl who returns home to her strange, wild family after years of estrangement, perfect for fans of Wilder Girls.

Eleanor Zarrin has been estranged from her wild family for years. When she flees boarding school after a horrifying incident, she goes to the only place she thinks is safe: the home she left behind. But when she gets there, she struggles to fit in with her monstrous relatives, who prowl the woods around the family estate and read fortunes in the guts of birds.

Eleanor finds herself desperately trying to hold the family together―in order to save them all, Eleanor must learn to embrace her family of monsters and tame the darkness inside her.

Exquisitely terrifying, beautiful, and strange, this fierce gothic fantasy will sink its teeth into you and never let go.
Hardcover 2/2/21