Vendor- Dionne, Evette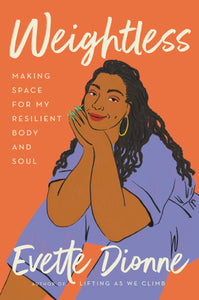 Weightless: Making Space for my Resilient Body and Soul
Dionne, Evette
Regular price $26.99 Sale
My body has not betrayed me; it has continued rebounding against all odds. It is a body that others map their expectations on, but it has never let me down.
In this insightful, funny, and whip-smart book, acclaimed writer Evette Dionne explores the minefields fat Black woman are forced to navigate in the course of everyday life. From her early experiences of harassment to adolescent self-discovery in internet chatrooms to diagnosis with heart failure at age twenty-nine, Dionne tracks her relationships with friendship, sex, motherhood, agoraphobia, health, pop culture, and self-image.
Along the way, she lifts back the curtain to reveal the subtle, insidious forms of surveillance and control levied at fat women: At the doctor's office, where any health ailment is treated with a directive to lose weight. On dating sites, where larger bodies are rejected or fetishized. On TV, where fat characters are asexual comedic relief. But Dionne's unflinching account of our deeply held prejudices is matched by her fierce belief in the power of self-love.
An unmissable portrait of a woman on a journey toward understanding our society and herself, Weightless holds up a mirror to the world we live in and asks us to imagine the future we deserve.
Hardcover, Dec 6th 2022