Vendor- Elven, Lucie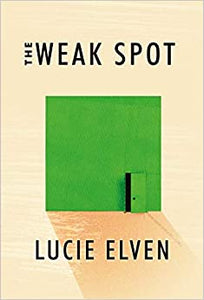 Weak Spot, The
Elven, Lucie
Regular price $15.95 Sale
A woman discovers something toxic at work in the isolated village where she is apprenticing as a pharmacist, in this fable-like novel about power, surveillance, prescriptions, and cures by a captivating debut voice.

On a remote mountaintop somewhere in Europe, accessible only by an ancient funicular, a small pharmacy sits on a square. As if attending confession, townspeople carry their ailments and worries through its doors, in search of healing, reassurance, and a witness to their bodies and their lives.

One day, a young woman arrives in the town to apprentice under its charismatic pharmacist, August Malone. She slowly begins to lose herself in her work, lulled by stories and secrets shared by customers and colleagues. But despite her best efforts to avoid thinking and feeling altogether, as her new boss rises to the position of mayor, she begins to realize that something sinister is going on around her.

The Weak Spot is a fable about our longing for cures, answers, and an audience--and the ways it will be exploited by those who silently hold power in our world.
Paperback 2/9/21