Vendor- Simon & Schuster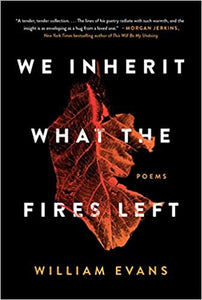 We Inherit What the Fires Left, by William Evans
Simon & Schuster
Regular price $16.00 Sale
In We Inherit What the Fires Left, award-winning poet William Evans embarks on a powerful new collection that explores the lived experience of race in the American suburbs and what dreams and injuries are passed from generation to generation. Fall under the spell of Evans's boldly intimate, wise, and emotionally candid voice in these urgent, electrifying poems.

This eloquent collection explores not only what these inheritances are composed of, but what price the bearer must pay for such legacies, and the costly tolls exacted on both body and spirit. Evans writes searingly from the perspective of the marginalized, delivering an unflinching examination of what it is like to be a black man raising a daughter in predominantly white spaces, and the struggle to build a home and a future while carrying the weight of the past.

However, in beautiful and quiet scenes of domesticity with his daughter or in thoughtful reflection within himself, Evans offers words of hope to readers, proving that resilience can ultimately bloom even in the face of prejudice. Readers of Ta-Nehisi Coates and Hanif Abdurraqib will find a brilliant, fresh new talent to add to their lists in William Evans.
Paperback March 24, 2020