Vendor- Montross, Christine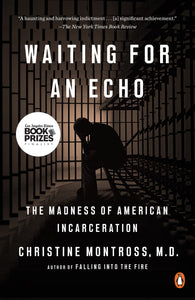 Waiting for an Echo: The Madness of American Incarceration
Montross, Christine
Regular price $28.00 $28.00 Sale
Waiting for an Echo is a riveting, rarely seen glimpse into American jails and prisons. It is also a damning account of policies that have criminalized mental illness, shifting large numbers of people who belong in therapeutic settings into punitive ones.

Dr. Christine Montross has spent her career treating the most severely ill psychiatric patients. This expertise—the mind in crisis—has enabled her to reckon with the human stories behind mass incarceration. A father attempting to weigh the impossible calculus of a plea bargain. A bright young woman whose life is derailed by addiction. Boys in a juvenile detention facility who, desperate for human connection, invent a way to communicate with one another from cell to cell. Overextended doctors and correctional officers who strive to provide care and security in environments riddled with danger.

Our methods of incarceration take away not only freedom but also selfhood and soundness of mind. In a nation where 95 percent of all inmates are released from prison and return to our communities, this is a practice that punishes us all.
Released July 20, 2021