Vendor- May, Nikki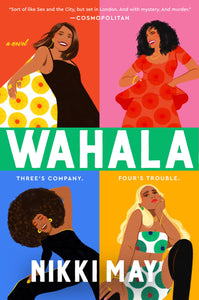 Wahala
May, Nikki
Regular price $17.99 Sale
An incisive and exhilarating debut novel following three Anglo-Nigerian best friends and the lethally glamorous fourth woman who infiltrates their group—the most unforgettable girls since Carrie, Miranda, Charlotte, and Samantha.
Ronke wants happily ever after and 2.2. kids. She's dating Kayode and wants him to be "the one" (perfect, like her dead father). Her friends think he's just another in a long line of dodgy Nigerian boyfriends.
Boo has everything Ronke wants—a kind husband, gorgeous child. But she's frustrated, unfulfilled, plagued by guilt, and desperate to remember who she used to be.
Simi is the golden one with the perfect lifestyle. No one knows she's crippled by impostor syndrome and tempted to pack it all in each time her boss mentions her "urban vibe." Her husband thinks they're trying for a baby. She's not.
When the high-flying, charismatic Isobel explodes into the group, it seems at first she's bringing out the best in each woman. (She gets Simi an interview in Shanghai! Goes jogging with Boo!) But the more Isobel intervenes, the more chaos she sows, and Ronke, Simi, and Boo's close friendship begins to crack.
A sharp, modern take on friendship, ambition, culture, and betrayal, Wahala (trouble) is an unforgettable novel from a brilliant new voice.
Paperback, Dec 27th 2022