Vendor- Fernandez, Nona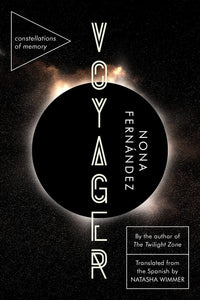 Voyager: Constellations of Memory
Fernandez, Nona
Regular price $15.00 Sale

Voyager begins with Nona Fernández accompanying her elderly mother to the doctor to seek an explanation for her frequent falls and inability to remember what preceded them. As the author stares at the image of her mother's brain scan, it occurs to her that the electrical signals shown on the screen resemble the night sky.

Inspired by the mission of the Voyager spacecrafts, Fernández begins a process of observation and documentation. She describes a recent trip to the remote Atacama desert―one of the world's best spots for astronomical observation―to join people who, like her, hope to dispel the mythologized history of Chile's new democracy. Weaving together the story of her mother's illness with story of her country and of the cosmos itself, Fernández braids astronomy and astrology, neuroscience and memory, family history and national history into this brief but intensely imagined autobiographical essay. Scrutinizing the mechanisms of personal, civic, and stellar memory, she insists on preserving the truth of what we've seen and experienced, and finding ways to recover what people and countries often prefer to forget.

In Voyager, Fernández finds a new container for her profound and surreal reckonings with the past. One of the great chroniclers of our day, she has written a rich and resonant book.
Paperback, Feb 21st 2023