Vendor- Two Dollar Radio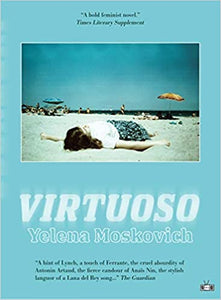 Virtuoso, by Yelena Moskovich
Two Dollar Radio
Regular price $16.99 Sale
As Communism begins to crumble in Prague in the 1980s, Jana's unremarkable life becomes all at once remarkable when a precocious young girl named Zorka moves into the apartment building with her mother and sick father. With Zorka's signature two-finger salute and abrasive wit, she brings flair to the girls' days despite her mother's protestations to not "be weird." But after scorching her mother's prized fur coat and stealing from a nefarious teacher, Zorka suddenly disappears.
Meanwhile in Paris, Aimée de Saint-Pé married young to an older woman, Dominique, an actress whose star has crested and is in decline. A quixotic journey of self-discovery, Virtuoso follows Zorka as she comes of age in Prague, Wisconsin, and then Boston, amidst a backdrop of clothing logos, MTV, computer coders, and other outcast youth. But it isn't till a Parisian conference hall brimming with orthopedic mattresses and therapeutic appendages when Jana first encounters Aimée, their fates steering them both to a cryptic bar on the Rue de Prague, and, perhaps, to Zorka.
With a distinctive prose flair and spellbinding vision, Virtuoso is a story of love, loss, and self-discovery that heralds Yelena Moskovich as a brilliant and one-of-a-kind visionary.