Vendor- Claxton, Brianna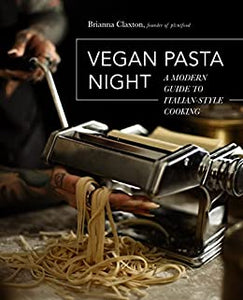 Vegan Pasta Night: A Modern Guide to Italian-Style Cooking
Claxton, Brianna
Regular price $26.99 Sale
From Carbonara to Sweet Potato Gnocchi with Brown "Butter" and Sage, join chef Brianna Claxton for vegan recipes that will show you a whole new way to eat Italian.

Whether it's cheese, butter, pancetta, or any number of ingredients, it can seem impossible to eat delicious Italian classics while staying vegan. Not anymore. Join Brianna Claxton (founder of plvntfood) for a unique tour through pastas, sauces, and signature dishes perfect for sharing. Start by learning how to make a variety of pastas from scratch. Whether you want straightforward semolina dough or a more creative dinner built around activated charcoal "squid ink" pasta, you'll learn how to do it. Brianna also covers techniques for filled pastas and shaped pasta.

Then move on to recipes and techniques for the vegan cheeses and meats that are essential for cooking Italian. With amazing versions of staples including parmesan, mozzarella, and calamari, you can make all this and more:

– Baked Pasta: Sausage and Ricotta Stuffed Shells, Lasagna Bolognese, Baked Rigatoni, Penne Arrabbiata Parmesan, and Orechiette with Pesto Cream and Walnut Crumble

– Fancy Pasta: Pancetta and Pea Linguine, Roasted Fennel and Sausage Rigatoni, Sweet Pea and Tarragon Alfredo, Short Rib Ragu with Pappardelle and Ricotta, Kale Alfredo with Chorizo and Farfalle, and Linguine with White Clam Sauce

– Filled Pasta: Beet and Tarragon Tortellini, Ricotta and Chicken Mezzalune with Marsala Cream Sauce, Sun-Dried Tomato Ricotta Agnolotti with Asparagus Sauce, Lemon Cappelletti with Pistachio Cream, Raviolo al' Uovo, and Lobster Ravioli with Saffron Mascarpone Cream

– Other Italian Mains and Sides: Fennel Gratin, Ratatouille, Wild Mushroom and Sage Risotto, Insalata Mixta with Lemon Poppyseed Vinaigrette, Caprese Salad, Cured Olives with Rosemary and Citrus, English Pea Arancini, The Perfect Charcuterie Board, Stuffed Banana Peppers

Whether you are a vegan longing for your Italian favorites or simply interested in reducing your dependence on animals, Vegan Pasta Night will become a go-to resource for both weeknight meals and special occasions.
Hardcover, oct 25th 2022