Vendor- Chen, Mike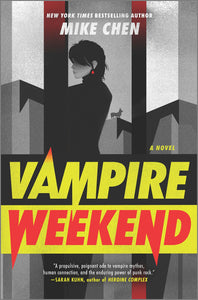 Vampire Weekend
Chen, Mike
Regular price $17.99 Sale

Everything you've heard about vampires is a lie. They can't fly. No murders allowed (the community hates that). And turning into a bat? Completely ridiculous. In fact, vampire life is really just a lot of blood bags and night jobs. For Louise Chao, it's also lonely, since she swore off family ages ago.

At least she's gone to decades of punk rock shows. And if she can join a band of her own (while keeping her…situation under wraps), maybe she'll finally feel like she belongs, too.

Then a long-lost teenage relative shows up at her door. Whether it's Ian's love of music or his bad attitude, for the first time in ages, Louise feels a connection.

But as Ian uncovers Louise's true identity, things get dangerous—especially when he asks her for the ultimate favor. One that goes beyond just family…one that might just change everything vampires know about life and death forever.
Paperback, Jan 31st 2023