Vendor- Flores, Fernando A.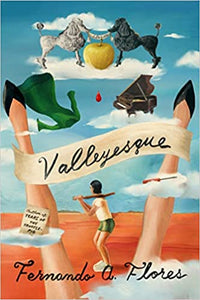 Valleyesque
Flores, Fernando A.
Regular price $16.00 Sale
No one captures the border―its history and imagination, its danger, contradiction, and redemption―like Fernando A. Flores, whose stories reimagine and reinterpret the region's existence with peerless style. In his immersive, uncanny borderland, things are never what they seem: a world where the sun is both rising and setting, and where conniving possums efficiently take over an entire town and rewrite its history.

The stories in Valleyesque dance between the fantastical and the hyperreal with dexterous, often hilarious flair. A dying Frédéric Chopin stumbles through Ciudad Juárez in the aftermath of his mother's death, attempting to recover his beloved piano that was seized at the border, while a muralist is taken on a psychedelic journey by an airbrushed Emiliano Zapata T-shirt. A woman is engulfed by a used-clothing warehouse with a life of its own, and a grieving mother breathlessly chronicles the demise of a town decimated by violence. In two separate stories, queso dip and musical rhythms are bottled up and sold for mass consumption. And in the final tale, Flores pieces together the adventures of a young Lee Harvey Oswald as he starts a music career in Texas.

Swinging between satire and surrealism, grief and joy, Valleyesque is a boundary- and border-pushing collection from a one-of-a-kind stylist and voice. With the visceral imagination that made his debut novel, Tears of the Trufflepig, a cult classic, Flores brings his vision of the border to life―and beyond.
Paperback, May 3rd 2022