Vendor- Vertigo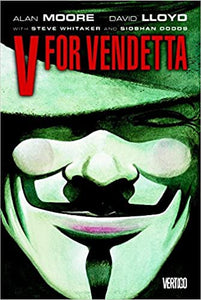 V for Vendetta, by Alan Moore. Illustrated by David LLoyd
Vertigo
Regular price $19.99 Sale
Set in a futurist totalitarian England, a country without freedom or faith, a mysterious man in a white porcelain mask strikes back against the oppressive overlords on behalf of the voiceless. Armed with only knives and his wits, V, as he's called, aims to bring about change in this horrific new world. His only ally? A young woman named Evey Hammond. And she is in for much more than she ever bargained for…

A visionary graphic novel that defines sophisticated storytelling, this powerful tale detailing the loss and fight for individuality has become a cultural touchstone and an enduring allegory for current events. Master storytellers Alan Moore and David Lloyd are at the top of their craft in this terrifying portrait of totalitarianism and resistance.

This paperback edition collects the classic graphic novel, which served as inspiration for the hit 2008 film from Warner Bros.
"Mr. Moore, a native of Northampton, England, distinguished himself as a darkly philosophical voice in the medium of comic books — a rare talent whose work can sell solely on the strength of his name."—The New York Times
 
"Dark, gripping storytelling." —Entertainment Weekly
 
"It is a good book, it is smart, and there's no doubt that it remains relevant." —The Guardian

"Moore's work has great depth. It shows a dirty world with ugly, fully-realized characters." —IGN
 
"A complex, involving narrative." —AV Club
 
"It's difficult not to be sucked into V's take on anarchy. —PopMatters
Alan Moore is perhaps the most acclaimed writer in the graphic story medium, having garnered countless awards for works such as Watchmen, V for Vendetta, Swamp Thing and Miracleman. He is also the mastermind behind the America's Best Comics line, through which he has created (along with many talented illustrators) The League of Extraordinary Gentlemen, Promethea, Tom Strong, Tomorrow Stories and Top Ten.

David Lloyd has been working in comics since 1977. Amongst his most favored works are Sláine: Cauldron of Blood, Night Raven: House of Cards, Aliens: Glass Corridor, Weird War Tales, Gangland, Dark Horse Presents 86, The Horrorist, Marlowe: The Graphic Novel, Hellblazer: Rare Cuts, War Story: J For Jenny, War Story: Nightingale, and Kickback.