Vendor- McCombs, Theodore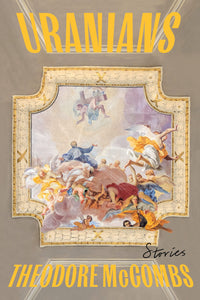 Uranians: Stories
McCombs, Theodore
Regular price $25.00 Sale
At the end of the Victorian era, a handful of public intellectuals advocated for tolerance of the "Uranian"—a man who loved other men. Some went so far as to propose that these "intermediate sexes" might, in fact, constitute a totally different species, even serve as intrepid guides in our march toward an uncertain future.

The five speculative stories in Theodore McCombs's kaleidoscopic collection span several possible worlds, teasing the boundaries between coexisting realities and taking up the question of queer difference from one surprising vantage after another. In "Toward a Theory of Alternative Lifestyles," a heartbroken gay man waits in line at an exclusive Berlin rave promising visions of parallel lives across the multiverse. In "Six Hangings in the Land of Unkillable Women," at the turn of an alternate 20th century, a policeman's wife feels that if you want an execution done right, you just have to do it yourself. And in the operatic novella "Uranians," an expedition of queer artists, scientists, and one trans priest embark on a lifelong interplanetary voyage that requires them to renegotiate their connections to a remote and hostile Earth, while keeping their ship's biome—and each other—alive.

Each story unfolds with the depth and complexity of an entire universe; each is inhabited by characters learning to divest from a society that has marked and rejected them. Discerning which dreams of Western civilization to hold fast to and which to leave behind, these outsiders set their gazes on new horizons and prepare for the changes to come. Arch but tender, clear-eyed and compassionate, Uranians brilliantly illustrates the vital role that queerness plays in every possible version of our world.
Hardcover, May 30th 2023