Vendor- Penguin Books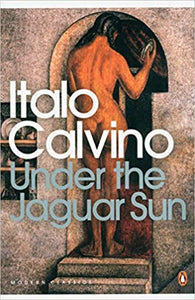 Under the Jaguar Sun, by Italo Calvino
Penguin Books
Regular price $22.00 Sale
Under the Jaguar Sun is a collection of three short stories by Italo Calvino. The stories were to have been in a book entitled I cinque sensi. Calvino died before writing the stories dedicated to vision and touch.
96 pages. Originally published in 1986.
A couple on an epicurean journey across Mexico are excited by the idea of a particular ingredient, suggested by ancient rituals of human sacrifice. Precariously balanced on his throne, a king is able only to listen to the sounds around him - sure that any deviation from their normal progression would mean the uprising of the conspirators that surround him. And three different men search desperately for the beguiling scents of lost women, from a Count visiting Madame Odile's perfumery, to a London drummer stepping over spent, naked bodies.
Italo Calvino was born in Cuba in 1923 and grew up in Italy. He was an essayist and journalist and a member of the editorial staff of Einaudi in Turin. One of the most respected writers of the twentieth century, his best-known works of fiction include Invisible Cities, If on a Winter's Night a Traveller, Marcovaldo and Mr Palomar. In 1973 he won the prestigious Premio Feltrinelli. He died in 1985. A collection of Calvino's posthumous personal writings, The Hermit in Paris, was published in 2003.