Vendor- Pavone, Chris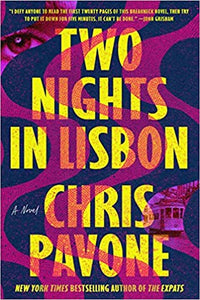 Two Nights in Lisbon
Pavone, Chris
Regular price $28.00 Sale
You think you know a person . . .

Ariel Pryce wakes up in Lisbon, alone. Her husband is gone―no warning, no note, not answering his phone. Something is wrong.

She starts with hotel security, then the police, then the American embassy, at each confronting questions she can't fully answer: What exactly is John doing in Lisbon? Why would he drag her along on his business trip? Who would want to harm him? And why does Ariel know so little about her new―much younger―husband?

The clock is ticking. Ariel is increasingly frustrated and desperate, running out of time, and the one person in the world who can help is the one person she least wants to ask.

With sparkling prose and razor-sharp insights, bestselling author Chris Pavone delivers a stunning and sophisticated international thriller that will linger long after the surprising final page.
Hardcover, May 24th 2022