Vendor- St. Martin's Press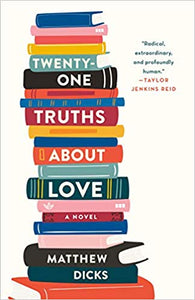 Twenty-One Truths About Love, by Mathew Dicks
St. Martin's Press
Regular price $26.99 Sale
From the beloved author of Memoirs of an Imaginary Friend comes a wonderful new novel about a struggling man, written entirely in lists.
Daniel Mayrock's life is at a crossroads. He knows the following to be true:
1. He loves his wife Jill... more than anything.
2. He only regrets quitting his job and opening a bookshop a little (maybe more than a little)
3. Jill is ready to have a baby.
4. The bookshop isn't doing well. Financial crisis is imminent. Dan doesn't know how to fix it.
5. Dan hasn't told Jill about their financial trouble.
6. Then Jill gets pregnant.
This heartfelt story is about the lengths one man will go to and the risks he will take to save his family. But Dan doesn't just want to save his failing bookstore and his family's finances:
1. Dan wants to do something special.
2. He's a man who is tired of feeling ordinary.
3. He's sick of feeling like a failure.
4. He doesn't want to live in the shadow of his wife's deceased first husband.
Dan is also an obsessive list maker; his story unfolds entirely in his lists, which are brimming with Dan's hilarious sense of humor, unique world-view, and deeply personal thoughts. When read in full, his lists paint a picture of a man struggling to be a man, a man who has reached a point where he's willing to do anything for the love (and soon-to-be new love) of his life.
"It's not quite enough to say that TWENTY-ONE TRUTHS ABOUT LOVE is original, it is radical and extraordinary. I have no idea how Matthew Dicks made a story comprised entirely of lists feel so human but that's exactly what this story is: honest, vulnerable, hilarious, and profoundly human."―Taylor Jenkins Reid, New York Times bestselling author of Daisy Jones and the Six
"Twenty-one Truths About Love by Matthew Dicks is a fresh, humorous exploration of what makes us vulnerable and what makes us responsible, and you can't help but root for Daniel Mayrock even when he's at his most mistaken. This is a love story of great pathos and beauty."―Sharma Shields, author of The Cassandra
"An unconventional, endearing tale of impending fatherhood."―The Washington Post ("18 Books to Read this Fall")
"An unexpected pleasure."―The Seattle Times
"Funny, sad, uplifting but always relatable. A must read for fans of Rachel Joyce and Gabrielle Zevin."―Shelf Awareness
"Often moving, sometimes shocking, always entertaining, this superbly crafted work emphasizes the incalculable variety of the novel form."―Booklist
"These lists―and the silences they outline―conjure a tense world. Dan's lists reflect his increasing desperation, ratcheting up the tension until life throws a potentially devastating curveball at him that pushes him to reassess everything he had thought to be true. A clever, genre-bending portrait of a man under pressure."―Kirkus
"Dicks has impeccable comedic timing and touchingly renders family dynamics."―Publishers Weekly
Released November 19, 2019. IndieNext Pick for 2019