Vendor- White, Edward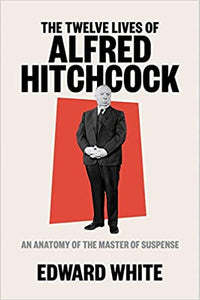 Twelve Lives of Alfred Hitchcock: An Anatomy of the Master of Suspense
White, Edward
Regular price $28.95 Sale
A fresh, innovative biography of the twentieth century's most iconic filmmaker.
In The Twelve Lives of Alfred Hitchcock, Edward White explores the Hitchcock phenomenon―what defines it, how it was invented, what it reveals about the man at its core, and how its legacy continues to shape our cultural world.
The book's twelve chapters illuminate different aspects of Hitchcock's life and work: "The Boy Who Couldn't Grow Up"; "The Murderer"; "The Auteur"; "The Womanizer"; "The Fat Man"; "The Dandy"; "The Family Man"; "The Voyeur"; "The Entertainer"; "The Pioneer"; "The Londoner"; "The Man of God." Each of these angles reveals something fundamental about the man he was and the mythological creature he has become, presenting not just the life Hitchcock lived but also the various versions of himself that he projected, and those projected on his behalf.
From Hitchcock's early work in England to his most celebrated films, White astutely analyzes Hitchcock's oeuvre and provides new interpretations. He also delves into Hitchcock's ideas about gender; his complicated relationships with "his women"―not only Grace Kelly and Tippi Hedren but also his female audiences―as well as leading men such as Cary Grant, and writes movingly of Hitchcock's devotion to his wife and lifelong companion, Alma, who made vital contributions to numerous classic Hitchcock films, and burnished his mythology. And White is trenchant in his assessment of the Hitchcock persona, so carefully created that Hitchcock became not only a figurehead for his own industry but nothing less than a cultural icon.
Ultimately, White's portrayal illuminates a vital truth: Hitchcock was more than a Hollywood titan; he was the definitive modern artist, and his significance reaches far beyond the confines of cinema.
Hardcover April 13, 2021