Vendor- Phaidon Press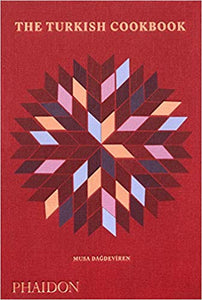 Turkish Cookbook, by Musa Dagdeviren
Phaidon Press
Regular price $49.95 Sale
550 recipes of hearty, healthy Turkish cuisine, from the leading authority on Turkey's unique food traditions, Musa Dagdeviren, as featured in the Netflix documentary series Chef's Table
Vibrant, bold, and aromatic, Turkish food - from grilled meats, salads, and gloriously sweet pastries to home-cooking family staples such as dips, pilafs, and stews - is beloved around the world.
Wrapped in a handsome linen case with gold stamping, this is the first book to so thoroughly showcase the diversity of Turkish food, with 550 recipes for the home cook that celebrate Turkey's remarkable European and Asian culinary heritage - from little-known regional dishes to those that are globally recognized and stand the test of time, be they lamb kofte, chicken kebabs, tahini halva, or pistachio baklava.
This volume also includes an introduction showcasing the culinary cultural history of the country, insightful headnotes, stunning photography of finished dishes and atmospheric images evoking the beauty and diversity of the Turkish landscape, environment, markets, and people.
Icon are used to note vegetarian, gluten and dairy free options, and recipes with five ingredients or fewer.
A whopping 550 recipes for Turkish food... All made accessible to the home cook."—Epicurious
"Full of hearty, healthy cuisine, this book truly celebrates Turkey's unique blend of Mediterranean and Middle Eastern culinary heritage. But ultimately, The Turkish Cookbook is more than a collection of recipes - it's a journey deeper into a diverse culture with a rich history."—Life Extension Magazine
"Impressive [and] comprehensive... The breadth of the work is astonishing... This outstanding, deeply researched investigation works as both a cookbook and guide."—Publishers Weekly
"An encyclopaedic look at Turkish cooking."—Olive Magazine
"There are many cookbooks that explore Turkish food, but Musa Daĝdeviren... Takes it a step further... This is clearly a definitive guide to Turkish cuisine."—Eater
"The definitive cookbook of hearty, healthy Turkish cuisine... Thoroughly showcases the diversity of Turkish food."—Edible Hawaiian Islands
"We've referred to Daĝdeviren as "Master Chef of Turkey", and now... you'll be able to try 550 of his recipes."—Food & Wine Online
Musa Daĝdeviren is a well-known and acclaimed chef in Istanbul, where he has three restaurants - the first, Çiya, opened in 1987. His foundation, which he runs with his wife, is devoted to rediscovering Turkish culinary heritage, and he publishes his findings in a quarterly journal. He has been featured in international press and regularly lectures at food conferences and culinary schools.
April 1, 2019