Vendor- Carroll, James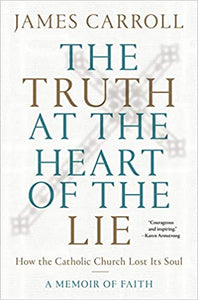 Truth at the Heart of the Lie: How the Catholic Church Lost Its Soul
Carroll, James
Regular price $28.00 Sale
James Carroll weaves together the story of his quest to understand his personal beliefs and his relationship to the Catholic Church with the history of the Church itself. From his first awakening of faith as a boy to his gradual disillusionment as a Catholic, Carroll offers a razor-sharp examination both of himself and of how the Church became an institution that places power and dominance over people through an all-male clergy. 
 
Carroll argues that a male-supremacist clericalism is both the root cause and the ongoing enabler of the sexual abuse crisis. The power structure of clericalism poses an existential threat to the Church and compromises the ability of even a progressive pope like Pope Francis to advance change in an institution accountable only to itself. Carroll traces this dilemma back to the Roman Empire and the Middle Ages, when Scripture, Jesus Christ, and His teachings were reinterpreted as the Church became an empire. In a deeply personal re-examination of self, Carroll grapples with his own feelings of being chosen, his experiences as a priest, and the moments of doubt that made him leave the priesthood and embark on a long personal journey toward renewal—including his tenure as an op-ed columnist at The Boston Globe writing about sexual abuse in the Church. 
 
Ultimately, Carroll calls on the Church and all reform-minded Catholics to revive the culture from within by embracing anti-clerical, anti-misogynist resistance and staying grounded in the spirit of love that is the essential truth at the heart of Christian belief and Christian life.
Hardcover 3/23/21