Vendor- Melville House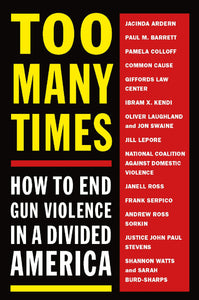 Too Many Times: How to End Gun Violence in a Divided America
Melville House
Regular price $16.99 $16.99 Sale
Gun violence is a problem with many faces, but seemingly no solution. From mass shootings to deadly domestic abuse to police officers opening fire, it permeates American life. And yet it feels impossible to address. The lines are firmly drawn and the federal government has not passed any legislation to reduce gun ownership in over twenty-five years.

That's why it's time to look at the issue differently. In this revelatory collection, gun violence in America is addressed from three angles: how gun violence affects us today, how we have gotten to this juncture legally and socially, and finally, what we can do to reduce and end gun violence in America.

Too many lives are lost by gun fire--around 15,000 a year--but we do have the tools to address this crisis. Top journalists, organizations, and anti-gun-violence advocacy groups are represented here--from Pamela Coloff to Ibram X. Kendi to Everytown for Gun Safety and the Giffords Organization--to collect the most comprehensive, thoughtful and practical guide on gun violence in America. There are no deadlocks and no excuses--we have the tools to stop gun violence now.
Released October 13, 2020