Vendor- Shree, Geetanjali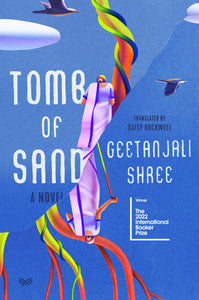 Tomb of Sand
Shree, Geetanjali
Regular price $29.99 Sale
"A tale tells itself. It can be complete, but also incomplete, the way all tales are. This particular tale has a border and women who come and go as they please. Once you've got women and a border, a story can write itself . . ."
Eighty-year-old Ma slips into a deep depression after the death of her husband. Despite her family's cajoling, she refuses to leave her bed. Her responsible eldest son, Bade, and dutiful, Reebok-sporting daughter-in-law, Bahu, attend to Ma's every need, while her favorite grandson, the cheerful and gregarious Sid, tries to lift her spirits with his guitar. But it is only after Sid's younger brother—Serious Son, a young man pathologically incapable of laughing—brings his grandmother a sparkling golden cane covered with butterflies that things begin to change.
With a new lease on life thanks to the cane's seemingly magical powers, Ma gets out of bed and embarks on a series of adventures that baffle even her unconventional feminist daughter, Beti. She ditches her cumbersome saris, develops a close friendship with a hijra, and sets off on a fateful journey that will turn the family's understanding of themselves upside down.
Rich with fantastical elements, folklore, and exuberant wordplay, Geetanjali Shree's magnificent novel explores timely and timeless topics, including Buddhism, global warming, feminism, Partition, gender binary, transcending borders, and the profound joys of life. Elegant, heartbreaking, and funny, it is a literary masterpiece that marks the American debut of an extraordinary writer.
Hardcover, Jan 31st 2023