Vendor- Li, Yiyun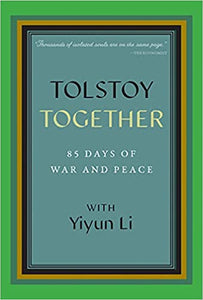 Tolstoy Together: 85 Days of War and Peace
Li, Yiyun
Regular price $22.00 Sale
From the acclaimed author of Dear Friend, from My Life I Write to You in Your Life, a book about the art of reading. In Tolstoy Together: 85 Days of War and Peace, Yiyun Li invites you to travel with her through Tolstoy's novel―and with fellow readers around the world who joined her for an online book club and an epic journey during a pandemic year.

"I've found that the more uncertain life is," Yiyun Li writes, "the more solidity and structure War and Peace provides." Tolstoy Together expands the epic novel into a rich conversation about literature and ways of reading, with contributions from Garth Greenwell, Elliott Holt, Carl Phillips, Tom Drury, Sara Majka, Alexandra Schwartz, and hundreds of fellow readers.

Along with Yiyun Li's daily reading journal and a communal journal with readers' reflections―with commentary on craft and technique, historical context, and character studies, Tolstoy Together: 85 Days of War and Peace includes a schedule and framework, providing a daily motivating companion for Tolstoy's novel and a reading practice for future books.
Hardcover, Sept 14th 2021