Vendor- Carofiglio, Gianrico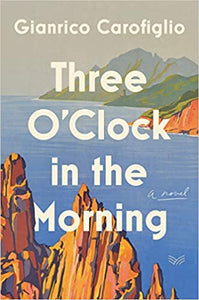 Three O'Clock in the Morning
Carofiglio, Gianrico
Regular price $23.99 Sale
Antonio is eighteen years old and on the cusp of adulthood. His father, a brilliant mathematician, hasn't played a large part in his life since divorcing Antonio's mother but when Antonio is diagnosed with epilepsy, they travel to Marseille to visit a doctor who may hold the hope for an effective treatment. It is there, in a foreign city, under strained circumstances, that they will get to know each other and connect for the first time.
A beautiful, gritty, and charming port city where French old-world charm meets modern bohemia, father and son stroll the streets sharing strained small talk. But as the hours pass and day gives way to night, the two find themselves caught in a series of caffeine-imbued adventures involving unexpected people (and unforeseen trysts) that connect father and son for the first time. As the two discuss poetry, family, sex, math, death, and dreams, their experience becomes a mesmerizing 48-hour microcosm of a lifetime relationship. Both learn much about illusions and regret, about talent and redemption, and, most of all, about love. 
Elegant, warm, and tender, set against the vivid backdrop of 1980s Marseille and its beautiful calanques—a series of cliffs and bays on the city's outskirts—Three O'Clock in the Morning is a bewitching coming-of-age story imbued with nostalgia and a revelatory exploration of time and fate, youth and adulthood. 
Translated from the Italian by Howard Curtis
Hardcover March 16, 2021