Vendor- Barnett, Mac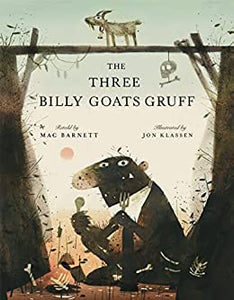 Three Billy Goats Gruff
Barnett, Mac
Regular price $18.99 Sale
Once there was a bridge and a terrible and VERY hungry troll lived underneath it. When the three Billy Goats Gruff decide to clip-clop across the bridge to get to the grassy ridge, the troll is already imagining all the way to prepare a delicious goat dinner. But the troll underestimates those seemingly sweet but oh-so-savvy goats! This is the first in a groundbreaking new collection of fractured fairy tales crafted by one of today's most celebrated and acclaimed authors, Mac Barnett, and brought to stunning visual life by award-winning and beloved creator of I Want My Hat Back, Jon Klassen.
Told with pitch perfect timing and pacing, hilarious detail, and Barnett's signature narrator voice, this is Billy Goats Gruff as never before. High-stakes page turns will have readers on the edge of their seats and giggling along, as they join each goat and anticipate the arrival of the hungry and terrible troll living under the bridge. With Klassen's brilliantly restrained scenes, arresting characters, and celebrated artistic style, this first of three fairy tales is destined to be a true publishing event!
With a multitude of Caldecott Medals, Honors, international awards, and New York Times bestsellers to their names both independently and in collaboration, this is a creative pairing that is electric. So get ready to experience picture book magic... all you have to do is cross the bridge!