Vendor- Bayron, Kalynn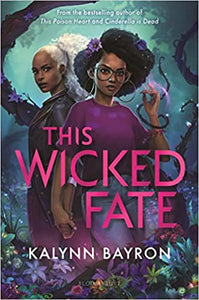 This Wicked Fate
Bayron, Kalynn
Regular price $18.99 Sale
Briseis has one chance to save her mother, but she'll need to do the impossible: find the last fragment of the deadly Absyrtus Heart. To locate the missing piece, she must turn to the blood relatives she's never known, learn about their secret powers, and take her place in their ancient lineage.
But Briseis is not the only one who wants the Heart, and her enemies will stop at nothing to fulfill their own ruthless plans. The fates tell of a truly dangerous journey, one that could end in more heartache, more death. Strengthened by the sisterhood of ancient magic, can Briseis harness her power to save the people she loves most?
Bestselling author Kalynn Bayron continues the story of Briseis and her family's unique magic in the sequel to This Poison Heart.
Hardcover, June 21st 2022