Vendor- Bayron, Kalynn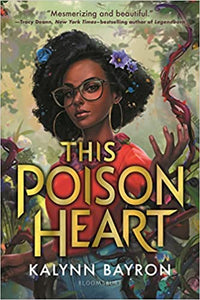 This Poison Heart
Bayron, Kalynn
Regular price $10.99 Sale

Briseis has a gift: with a single touch she can grow plants from tiny seeds to rich blooms.

When Briseis's aunt dies and wills her a dilapidated estate in rural New York, Bri and her parents hope that surrounded by plants and flowers, she will finally learn to control her gift. But their new home is sinister in ways they never expected-it comes with a mysterious set of instructions, a walled garden filled with the deadliest botanicals in the world, and generations of secrets. There is more to Bri's sudden inheritance than she could have imagined, and she is determined to uncover it.

From the bestselling author of Cinderella Is Dead comes an enchanting story about a young woman with the power to conquer the dark forces descending around her.
Paperback, June 21st 2022