Vendor- Sunstein, Cass R.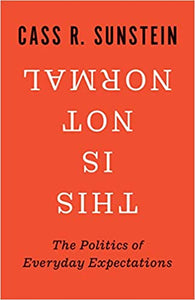 This is Not Normal: The Politics of Everyday Expectations
Sunstein, Cass R.
Regular price $26.00 Sale
This sharp and engaging collection of essays by leading governmental scholar Cass R. Sunstein examines shifting understandings of what's normal, and how those shifts account for the feminist movement, the civil rights movement, the rise of Adolf Hitler, the founding itself, the rise of gun rights, the response to COVID-19, and changing understandings of liberty. Prevailing norms include the principle of equal dignity, the idea of not treating the press as an enemy of the people, and the social unacceptability of open expressions of racial discrimination. But norms are very different from laws. They arise and change in response to individual and collective action. Exploring Nazism, #MeToo, the work of Alexander Hamilton and James Madison, constitutional amendments, pandemics, and the influence of Ayn Rand, Sunstein reveals how norms ultimately determine the shape of government in the United States, Europe, and elsewhere.
2/9/21