Vendor- Swanson, Tegan Nia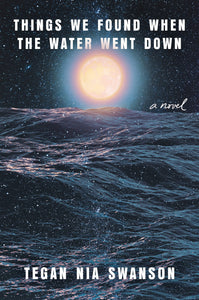 Things we Found When the Water Went Down
Swanson, Tegan Nia
Regular price $22.95 Sale
When brutish miner Hugo Mitchum is found murdered on the frozen shore of a North Country lake, the local officials and town gossips of Beau Caelais are quick to blame Marietta Abernathy, outspoken environmental activist and angry, witchy recluse. But Marietta herself has disappeared under mysterious circumstances.
 
Living on an isolated island with her father, Marietta's sixteen-year-old daughter, Lena, begins sifting through her mother's journals and collected oddities in an attempt to find her. While her father's grief threatens to consume him and her adoptive aunt Bea reckons with guilt and acceptance, it is the haunting town outcast Ellis Olsen who might have the most to lose if Lena fails to find her mother.
 
A Nordic eco-noir shot through with magical realism, Things We Found When the Water Went Down examines power, identity, and myth in a story that asks us to explore what it means to heal—or not—after violence.
Paperback, Dec 6th 2022