Vendor- Howrey, Meg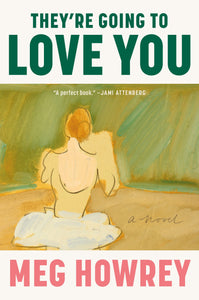 They're Going to Love You
Howrey, Meg
Regular price $28.00 Sale

"
They're Going to Love You
 

is my idea of a perfect book. It is about art, life, death, love, and family and it is beautifully and sharply written. I cried several times while reading it, and was sorry to let it go when I was done. I cannot recommend it enough." —Jami Attenberg, 

 
New York Times

 
bestselling author of

 
The Middlesteins

 
and

 
All This Could Be Yours


Throughout her childhood, Carlisle Martin got to see her father, Robert, for only a few precious weeks a year when she visited the brownstone apartment in Greenwich Village he shared with his partner, James. Brilliant but troubled, James gave Carlisle an education in all that he held dear in life—literature, music, and, most of all, dance.

Seduced by the heady pull of mentorship and hoping to follow in the footsteps of her mother—a former Balanchine ballerina—Carlisle's aspiration to become a professional ballet dancer bloomed. But above all else, she longed to be asked to stay at the house on Bank Street, to be a part of Robert and James's sophisticated world, even as the AIDS crisis brings devastation to their community. Instead, a passionate love affair created a rift between the family, with shattering consequences that reverberated for decades to come. Nineteen years later, when Carlisle receives a phone call that unravels the events of that fateful summer, she sees with new eyes how her younger self has informed the woman she's become. 


They're Going to Love You
 is a gripping and gorgeously written novel of heartbreaking intensity. With psychological precision and a masterfully revealed secret at its heart, it asks what it takes to be an artist in America, and the price of forgiveness, of ambition, and of love.