Vendor- W.W. Norton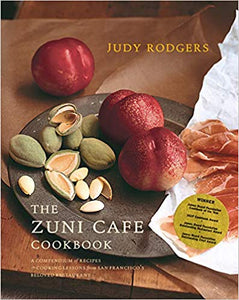 The Zuni Cafe Cookbook: A Compendium of Recipes and Cooking Lessons from San Francisco's Beloved Restaurant, by Judy Rodgers
W.W. Norton
Regular price $40.00 Sale
For twenty-four years, in an odd and intimate warren of rooms, San Franciscans of every variety have come to the Zuni Café with high expectations and have rarely left disappointed.
In The Zuni Café Cookbook, a book customers have been anticipating for years, chef and owner Judy Rodgers provides recipes for Zuni's most well-known dishes, ranging from the Zuni Roast Chicken to the Espresso Granita. But Zuni's appeal goes beyond recipes. Harold McGee concludes, "What makes The Zuni Café Cookbook a real treasure is the voice of Zuni's Judy Rodgers," whose book "repeatedly sheds a fresh and revealing light on ingredients and dishes, and even on the nature of cooking itself." Deborah Madison (Vegetarian Cooking for Everyone) says the introduction alone "should be required reading for every person who might cook something someday." 24 pages of color; 50 black-and-white photographs.
Rodgers, chef-owner of the Zuni Cafe, cooks like a dream and writes like one, too. Both an extended tutorial and an autobiography in recipes, the book opens with a fascinating account of her formative experiences as a 16-year-old in Roanne, France, where she spent a year at a three-star restaurant taking reams of notes and occasionally peeling vegetables. The introduction is followed by a series of brief, thoughtful essays on the practice of cooking. While readers in the market for a few quick supper ideas might greet so much preamble with impatience not until the eighth chapter does she get around to some recipes most will appreciate her insistence on principles like "What to Think About Before You Start" and "Finding Flavor and Balance." In stunning detail, she explains how to salt a cod and cure a rabbit and brine a fowl and stuff a sausage. One would not be surprised to turn a page and find a description of how to slaughter a sheep. The book includes the recipes that have made her reputation, such as the Zuni Roast Chicken with Bread Salad, plus other fare from appetizers through dessert like Oxtails Braised in Red Wine and Shrimp Cooked in Romesco with Wilted Spinach. Unlike many chefs who style themselves as creative forces, Rodgers has a deep sense of how, as she puts it, "the simplest dish can recall a community of ideas and people." Rodgers's cookbook embodies that ideal beautifully.
September 17, 2002