Vendor- Conde, Maryse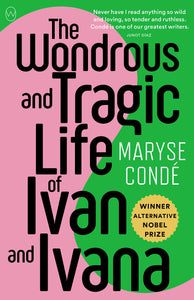 The Wondrous and Tragic Life of Ivan and Ivana
Conde, Maryse
Regular price $16.99 $16.99 Sale
Born in Guadeloupe, Ivan and Ivana are twins with a bond so strong they become afraid of their feelings for one another. When their mother sends them off to live with their father in Mali they begin to grow apart, until, as young adults in Paris, Ivana's youthful altruism compels her to join the police academy, while Ivan, stunted by early experiences of rejection and exploitation, walks the path of radicalization. The twins, unable to live either with or without each other, become perpetrator and victim in a wave of violent attacks. In The Wondrous and Tragic Life of Ivan and Ivana, Maryse Condé, winner of the 2018 Alternative Nobel prize in literature, touches upon major contemporary issues such as racism, terrorism, political corruption, economic inequality, globalization, and migration. With her most modern novel to date, this master storyteller offers an impressive picture of a colorful yet turbulent 21st century.
"Beating in the novel's heart is orality, carrying with it the breath of histories, literatures and languages of Africa and the Caribbean…The truth is not only murky and complex, it is often elusive. All we have is interpretation." ―The Irish Times
Published May 5, 2020
MARYSE CONDÉ was born in Guadeloupe in 1937 as the youngest of eight siblings. She earned her MA and PhD in Comparative Literature at Paris-Sorbonne University and went on to have a distinguished academic career, receiving the title of Professor Emerita of French at Columbia University in New York, where she taught and lived for many years. She has also lived in various West African countries, most notably in Mali, where she gained inspiration for her worldwide bestseller <i>Segu</i>, for which she was awarded the African Literature Prize and several other respected French awards. Condé was awarded the 2018 New Academy Prize (or "Alternative Nobel") in Literature for her oeuvre. <i>The Wondrous and Tragic Life of Ivan and Ivana</i> is her latest novel.