Vendor- Schinner, Miyoko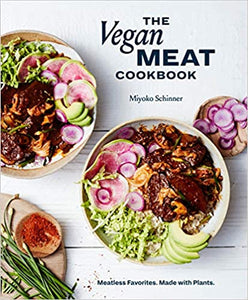 The Vegan Meat Cookbook: Meatless Favorites. Made With Plants
Schinner, Miyoko
Regular price $28.00 Sale
From the Impossible Burger and Beyond Meat to MorningStar Farms, Boca Burgers, and more, plant-based meats are a growing trend for those who want to help the planet, animals, and their health but don't want to give up the meaty flavors they love. In 
The Vegan Meat Cookbook,
 bestselling author Miyoko Schinner guides you through the maze of products available on store shelves and offers straightforward guidance on how to best use them in everything from Sausage Calzones with Roasted Fennel and Preserved Lemon to Hominy and Carne Asada Enchiladas with Creamy Green Sauce. Dig in to a satisfying vegan meal of Weeknight Shepherd's Pie with Bratwurst and Buttery Potatoes or Meaty, Smoky Chili. Wow your guests with Coq au Vin, Linguine with Lemon-Garlic Scallops and Herbs, or Lettuce Wraps with Spicy Garlic Prawns.
For those interested in making their own vegan meats and cheese from scratch, there are recipes for Juicy Chicken, King Trumpet Mushroom Bacon, Easy Buffalo Mozzarella, Miyoko's famous Unturkey, and many more that you'll never find in stores. Whether you're cutting back on meat for your health, the environment, animal welfare, or affordability, 
The Vegan Meat Cookbook
 will satisfy the cravings of flexitarians, vegans, vegetarians, and even carnivores.