Vendor- Anchor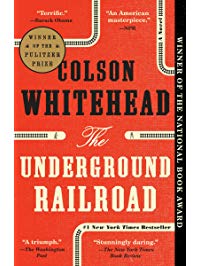 The Underground Railroad, by Colson Whitehead (Pulitzer Prize Winner in Fiction / National Book Award Winner 2016)
Anchor
Regular price $16.95 Sale
Released: January 30, 2018. (Hardcover released August 2, 2016).
Cora is a young slave on a cotton plantation in Georgia. An outcast even among her fellow Africans, she is on the cusp of womanhood—where greater pain awaits. And so when Caesar, a slave who has recently arrived from Virginia, urges her to join him on the Underground Railroad, she seizes the opportunity and escapes with him. In Colson Whitehead's ingenious conception, the Underground Railroad is no mere metaphor: engineers and conductors operate a secret network of actual tracks and tunnels beneath the Southern soil. Cora embarks on a harrowing flight from one state to the next, encountering, like Gulliver, strange yet familiar iterations of her own world at each stop. As Whitehead brilliantly re-creates the terrors of the antebellum era, he weaves in the saga of our nation, from the brutal abduction of Africans to the unfulfilled promises of the present day. The Underground Railroad is both the gripping tale of one woman's will to escape the horrors of bondage—and a powerful meditation on the history we all share.
REVIEWS:
"Terrific." —Barack Obama
 
"An American masterpiece." —NPR 
 
"Stunningly daring." —The New York Times Book Review

"A triumph." —The Washington Post 

"Potent. . . .  Devastating. . . . Essential." —Michiko Kakutani, The New York Times

"Whitehead's best work and an important American novel." —The Boston Globe

"Electrifying. . . . Tense, graphic, uplifting and informed, this is a story to share and remember." —People 

"Heart-stopping." —Oprah Winfrey

"The Underground Railroad is inquiring into the very soul of American democracy. . . . A stirring exploration of theAmerican experiment." —The Wall Street Journal

"A brilliant reimagining of antebellum America."—The New Republic

"Colson Whitehead's book blends the fanciful and the horrific, the deeply emotional and the coolly intellectual. Whathe comes up with is an American masterpiece."—Ann Patchett, author of Bel Canto
Author the Author:
Colson Whitehead is the #1 New York Times bestselling author of The Underground Railroad, which in 2016 won the Pulitzer Prize in Fiction and the National Book Award and was named one of the Ten Best Books of the Year by The New York Times Book Review, as well as The Noble Hustle, Zone One, Sag Harbor, The Intuitionist, John Henry Days, Apex Hides the Hurt, and The Colossus of New York. He is also a Pulitzer Prize finalist and a recipient of the MacArthur and Guggenheim Fellowships. He lives in New York City.