Vendor- Mallo, Agustin Fernandez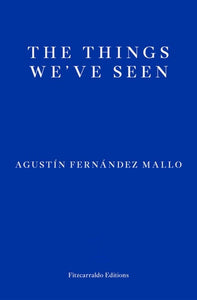 The Things We've Seen
Mallo, Agustin Fernandez
Regular price $21.95 $21.95 Sale
Written in three parts, 
The Things We've Seen
 is a dazzling and anarchic exploration of social relations which offers thought-provoking ideas on our perceptions of humanity, history, violence, art and science. The first part follows a writer who travels to the small, uninhabited island of San Simon, where he witnesses events which impel him on a journey across several continents, chasing the phantoms of nameless people devastated by violence. The second book is narrated by Kurt, the fourth astronaut who secretly accompanied Armstrong, Aldrin and Collins on their mythical first voyage to the moon. Now living in Miami, an ageing Kurt revisits the important chapters of his life: from serving in the Vietnam War to his memory of seeing earth from space. In the third part, a woman embarks on a walking tour of the Normandy coast with the goal of re-enacting, step by step, the memory of another trip taken years before. On her journey along the rugged coastline, she comes across a number of locals, but also thousands of refugees newly arrived on Europe's shores, whose stories she follows on the TV in her lodgings.