Vendor- Turrell, Arthur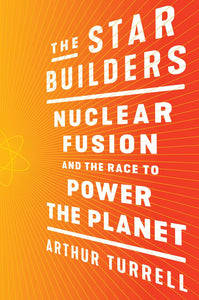 The Star Builders: Nuclear Fusion and the Race to Power the Planet
Turrell, Arthur
Regular price $28.00 $28.00 Sale
From a young, award-winning scientist, a look at one of the most compelling and historic turning points of our time—the race to harness the power of the stars and produce controlled fusion, creating a practically unlimited supply of clean energy.
The most important energy-making process in the universe takes place inside stars. The ability to duplicate that process in a lab, once thought out of reach, may now be closer than we think. Today, all across the world teams of scientists are being assembled by the world's boldest entrepreneurs, big business, and governments to solve what is the most difficult technological challenge humanity has ever faced: building the equivalent of a star on earth. If their plans to capture star power are successful, they will unlock thousands, potentially millions, of years of clean, carbon-free energy.
Not only would controlled nuclear fusion go a long way toward solving the climate crisis, it could help make other highly desired technological ambitions possible—like journeying to the stars. Given the rising alarm over deterioration of the environment, and the strides being made in laser and magnetic field technology, powerful momentum is gathering behind fusion and the possibilities it offers.
Arthur Turrell is an award-winning young plasma physicist with a unique talent for making complex science accessible. In 
The Star Builders
, he describes fascinating star machines with ten times as many parts as the NASA Space Shuttle, and structures that extend over 400 acres. And he spotlights the individuals, firms, and institutions racing for the finish line: science-minded entrepreneurs like Jeff Bezos and Peter Thiel, companies like Goldman Sachs and Google, universities like Oxford and MIT, and virtually every rich nation.
It's an exciting and game-changing international quest that, when completed, will make all of us winners.