Vendor- Kimbrell, Vanessa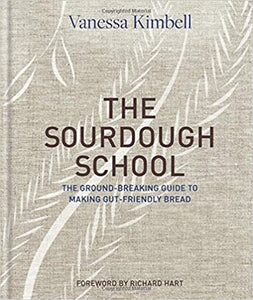 The Sourdough School: The Ground-Breaking Guide to Making Gut-Friendly Bread
Kimbrell, Vanessa
Regular price $24.99 $24.99 Sale
Achieve the delicious crust and addictive tang of a homemade sourdough loaf with this comprehensive guide from expert Vanessa Kimbell. At her renowned Sourdough School, Vanessa has taught countless students the secrets of this healthy, more easily digestible bread, and now she has compiled her teachings for the home baker.

From creating your own starter from scratch, you'll then move on to basic breadmaking techniques, before progressing to using sprouted grains and experimenting with flavors to produce Fig and Earl Grey and Cherry Plum loaves.

With step-by-step photography, detailed instructions, specialist advice and Vanessa's indispensable encouragement, The Sourdough School celebrates the timeless craft of artisan baking.
September 4, 2018