Vendor- Yan, Geling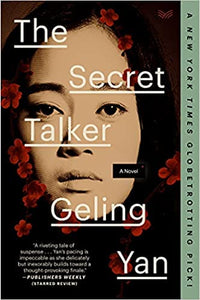 The Secret Talker
Yan, Geling
Regular price $15.99 Sale
Hongmei is the perfect Chinese wife: beautiful, diligent, passive. Glen is the perfect American husband: intelligent, caring, well-off. From the outside, Hongmei and Glen's life in the San Francisco Bay Area seems perfect. But at home, their marriage is falling apart. Post-its left on the fridge are their primary form of communication.  
When Hongmei receives a beguiling email from a secret admirer, naturally she's intrigued. But what starts out as harmless flirting with an internet stranger quickly turns into an all-consuming emotional affair. As Hongmei spills more and more about her dark past as a military intelligence officer-in-training in China, she falls deeper and deeper into a tense cat-and-mouse game. Desperate and self-destructive, she embarks on an investigation into her emailer's secret history…one that may tear her life and marriage apart forever.
A psychological story at its core, The Secret Talker elegantly examines how repressed desire and simmering silence can upend even the most idyllic marriage. As Hongmei pursues her stalker, her identity and agency come into question, and the chase curveballs into a captivating journey of self-actualization. Yan Geling pierces the human psyche to reveal devastating and emotional truths – and an ending that will leave readers speechless.
Paperback, Jan 11th 2022