Vendor- Judis, John B.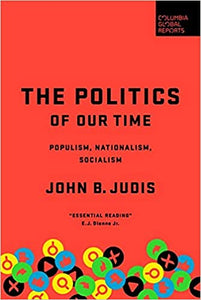 Politics of Our Time: Populism, Nationalism, Socialism
Judis, John B.
Regular price $0.00 $27.95 Sale
The distinguished political analyst John Judis has brought out a book with Columbia Global Reports during each of the last three national political seasons: 
The Populist Explosion
 in 2016, 
The Nationalist Revival
 in 2018, and 
The Socialist Awakening
 in 2020. Together, these books chart the rise during the second decade of the twenty-first century of new and unexpected political movements in the United States and Europe that arose in the wake of the Great Recession, the conflict with al-Qaeda and ISIS, and encroaching climate change.
Judis has revised and updated these three books, and written a new introductory essay that seeks to explain the tumultuous last decade--most notably, Donald Trump's presidency and the response to a global pandemic and recession. This volume is an indispensable guide to understanding the deeply rooted disenchantment that gave rise to populist parties and politicians on the right and left--and to the global changes that have transformed the politics of our time.